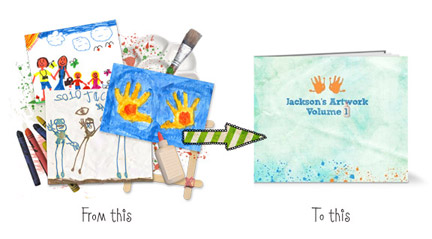 Are you a parent who don't know how or where to store the volumes of arts and crafts your children produce? I will design an art scrapbook for your child using photos you take of their artwork or projects (I can also scan artwork mailed to me). You can now save the memories forever without holding on to every object. It's a great way to preserve and prevent your children's artwork from getting lost, damaged, thrown away or creating clutter.
The process is simple – simply select the art work you want in your book and send it to me via photos by email or by mail through the USPS. I'll take care of all the design elements and create a 20 page bound book for you to keep for many years to come. There are several sizes and printing options available so please contact me if interested to figure out what is best for you. Also think about ordering extra scrapbooks so grandparents can see their grandkids' latest creations!


For a chance to win one of these books please stop by When I Grown Up blog to enter. If a child's art scrapbook isn't the right product for you feel free to use the $75 gift value towards a scrapbook of your choice.