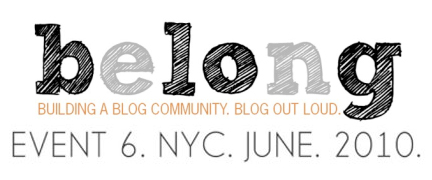 Last week I had the great opportunity to attended the
Blog Out Loud
NY event. Blog Out Loud is a resource for creative people to gather inspiration and information to start and maintain social media communities with the goal of enhancing their business, creating a presence online and connecting to community. They host offline events every few months in different cities that feature a panel of digitally-savvy web influencers who share their stories and style with the audience. The panelist discussed the importance of blogging, the etiquette of blogging/social media and overall ideas to help inspire you to write and think about your blog. Some important things I jotted down were:
define your voice
engage with your audience
put yourself out there
be personal without compromising your privacy
the blog is not the business, just a part of it
Some of these ideas weren't anything new to me but the last one – "the blog is not the business, just a part of it" really got me thinking. For the past few months I haven't really focused on my blog like I used to. I have gotten in the routine of posting "drive by" postings with products and designs I create but no real useful content (in my opinion). I was using my blog solely to sell and promote my business which I have to say wasn't that fun in hindsight. So I'm getting back to the main point of my blog – showcasing my personal journey as an artist, designer and scrapbooker. I'm going to tell MY STORY and yes along the way I'm going to show you my creations, products and designs but I'm not going to bonk you over the head with them. I hope to share with you an inside look of how I create, my process, what inspires me, my challenges/struggles and also useful tools to help you create and preserve your memories. I hope you will join me in my journey.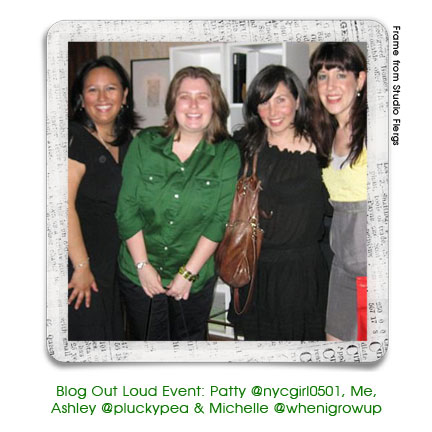 I'm so glad I attended this event since it totally inspired me to look at my blog in a new way and find my voice again. I also got to meet some great ladies as well: Patty who writes
NYC Girl At Heart blog
, Ashley who is the mastermind behind the Twitter jewelry at
SurvivalofTheHippest.com
(I can't wait for my necklace to arrive any day now!!), Monica from
Macaroni Kid
and Michelle from
When I Grow Up Coach
. These ladies are truly fabulous and I'm glad I had the pleasure of meeting them. Check out their sites and blogs too while you are at it!
Be back soon,