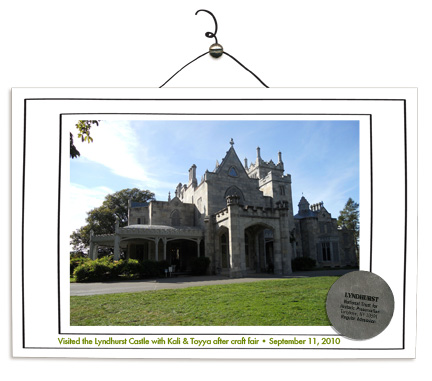 Frame from Paislee Print at Oscraps.com
I am all about helping people capture their moments so I should share with you more of my on-goings as well. I know I show you layouts of things but these events usually are from the past and not so current. I'm going to try to do every Monday a weekend wrap up post for you to stay up to date. That's assuming I have exciting weekend plans and fun things to share. I'm not always that exciting 🙂
This past weekend was a busy and fun one though. I attended a craft fair with some friends in Westchester for the afternoon. It was nice and inspiring to see many artists and their creations. It was a bit pricey for my budget and I didn't get anything but I did find some great artists I would like to follow.
Here are some of them you might want to check out as well:
The craft fair was on the grounds as the Lyndhurst Castle which we decided to take a tour of. It's a very cool castle from the outside but a little too much for my tastes inside. It was interesting though to hear about the history and see it first hand. All in all the afternoon was fun and time spent with close friends is the best.
We also enjoyed an awesome rock concert last night. My husband and I are big fans of the British band,
The Alarm
and we got to see them perform at The Highline Ballroom in NYC. We've seem then 2 other times but I think this third concert was the best since I know them much better now. I had a great time singing and bopping around. Even got a very cool tshirt to remember the show. I love concert tshirts – such a great remembrance of the show!
Great weekend and a busy week ahead – celebrating our 5th wedding anniversary, so lots of mini celebrations this week.
So, how was your weekend?
More soon,