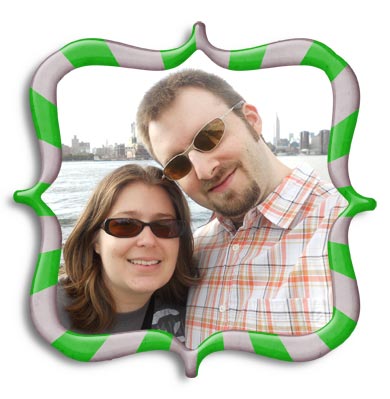 This past weekend was a whirlwind of fun, food and celebration – our 5th wedding anniversary. We usually try to explore some part of NYC for this occasion and this year we planned on heading to Park Slope but unfortunately the surprise tornado changed our plans. Despite the change in plans we had a great weekend and here are the highlights:
The Meatball Shop: We saw this on Unique Eats on The Cooking Channel and HAD to go. The menu is pretty neat –  you select what you want with a marker and you have tons of choices. Our meatball selections were amazing but I think dessert was the best. My homemade mint ice cream sandwich (1 cookie was a brownie cookie and the other chocolate chip) was AMAZING!! This wasn't like any type of mint ice cream I have had – made from real mint leaves. I can't wait to go back there just to get this ice cream again. Just thinking about it makes me hungry!!
San Gennero Festival: Since we were in the neighborhood we figured we would at least check this festival out for abit. We aren't big into crowds so we didn't last long here. Some of the food looked good but it all started to look the same table after table. Fun to check out once but I'm over it. Sorry Little Italy, it's just not my scene.
Williamsburg & Greenpoint, Brooklyn: Spent Saturday walking around these 2 fun neighborhoods in Brooklyn exploring the sights, sounds and streets. It's hard to believe it's just across the rive from us but you feel like you are a world away. We could literally see our apartment complex from the riverfront which was weird and cool at the same time. We enjoyed a really great day together exploring and taking photos.
Peter Pan Bakery: We decided to check out this place because Tina Fey said Peter Pan Donuts are the best in April's Esquire Magazine. She was quoted saying, "The best doughnut? That's Peter Pan doughnuts in Brooklyn. It's a Polish bakery. We shot nearby once for 30 Rock. It's a white-cream-filled powdered doughnut. And I really believe, when I first tried it, if I had a penis, I would put it in this doughnut. I finally understand what you guys are thinking about and what motivates you guys." Now if that's not a glowing review I don't know what is. "I want to go to there" – so we went. We were hoping to get the donut ice cream sandwich but sadly they didn't have ice cream BUT the donut was still awesome.
Blue Bottle Coffee: This coffee company was featured on FoodCrafters on The Food Channel and looked pretty interesting. So when we found out they had a store in Williamsburg we had to check it out. The coffee was fabulously rich and had a great taste. I would go there every day if they were closer, so that's probably a good thing for my wallet!
Brooklyn Bowl: Another great find we saw on Unique Eats on The Cooking Channel. The food was amazing as well as the space. Very cool decor and design. It's hard to come here and not bowl so we figured we should play a game. John totally whopped me though, so next time I come I need to be better prepared.
Artists & Fleas: Cool space where artists and sellers are displaying and selling there good. Came across some great artists, vendors and products. Here's some of my favorites:
Flea Markets: I love flea markets and garage type sales and boy does Williamsburg have them! Didn't buy anything but we saw some very cool old gems from the past at several places. We even saw the exact hutch we got rid of a few years ago that was my grandparents. Apparently it's brother hutch found us!
TiMer Movie: Cute sci-fi romance movie we watched on Saturday. It was different and I liked it although I can't say I was happy with the ending. That's all I'll say in case you see it but I'd recommend it.
Objectified Movie: From the same guys that brought us the fun documentary Helvetica comes Objectified, a documentary about industrial design. Objectified details the field of industrial design and its effect on our culture. This movie makes me pay closer attention to the objects that make up my life and made me realize that every object does have a story.
This weekend was great but I'm pretty tired and I think I gained 10 pounds from all the delicious food. And I took about 165 photos in 2 days which I'm still going through. I'll try to post some of cool city scene on Flickr soon so look for some of them later this week or next!
Hope you had a fabulous weekend and a good week ahead!