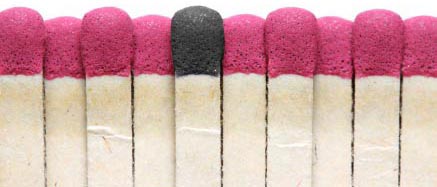 This article was previously published at the Pink Ink Studios blog last year but thought it was a good article worth sharing again. Even though it was geared for photographers and creatives there are some key ideas here that can translate to any career and profession.
Every photographer/artist now and again can experience burnout. It's hard to avoid this feeling when you are so passionate about your art. According to the Mayo Clinic burnout is a state of physical, emotional and mental exhaustion caused by long-term exposure to demanding work situations. Burnout is the cumulative result of stress.
Since most photographers' livelihoods depend on working all the time avoiding burnout is a key component of business. Here are a few tips and ideas to avoid or overcome the burnout blues.
The simple things to do first are slow down, cut back, set boundaries, talk to others, and make time for yourself. Making time for you sounds easy but by taking 1-2 days off a week if possible you can really rejuvenate yourself.
Blog! Instead of doing the work that causes you stress, take a break and blog about it. Blogging about tips, ideas and techniques is helpful to others and may help change your view on things. Don't worry you don't need to be an expert, just be yourself and have fun. You can either blog for your clients or for your peers. Blogging your experiences can be both beneficial as a learning tool to yourself as well as something that other photographers can use as reference.
Get on Facebook. Facebook is not just for catching up with old friends and playing games — it can also be used as a highly effective business tool. It's great for marketing your products, landing jobs and connecting with your customers and other photographers. You never know who you will interact with or the opportunities that could present themselves just by logging on.
Teach or mentor someone else. Besides helping someone else who needs the help or encouragement you might learn something about yourself.
Think of fun and different ideas for your clients. Instead of offering your clients the "standard" photo package or ideas try to think outside of the box.
Hire an assistant or interns to help with the daily tasks to free up your time for the fun things you like to do while working.
Join a professional organization in your area or online. Joining a professional organization will help you to stay on top of what's happening in industry and it may also help to inspire ideas that in turn could grow your own business. Check out the Professional Photographers of America website for information on a group in your area.
Make sure you give yourself new and exciting challenges often. If you are a portrait photographer try shooting a landscape photo. By mixing up your subjects you can keep things fresh and fun. Challenging yourself brings out the passion, excitement and enthusiasm in yourself. It helps you to develop your talents and in the process you become a new person. A photographer I spoke to recently mentioned she "don't necessarily get burnt out on photography but she can get burnt out on what she's shooting." She is a portrait/studio photographer but for fun she takes photos of wildlife as a hobby, which helps mix up the day to day work. Check out this link for a complete list of different types of photography options.
Try to have a hobby or interest that isn't photography related. I know it sounds hard because everything you do is probably photo related but try to have something else for "fun". Hobbies can ease your mind and relax you, so start a garden, collect stamps or go to the movies often. Sometimes you just need new experiences to break out of a rut.
There are lots of things you can do to avoid the burnout blues but you need to take the time to address them. Some time alone and reflection can help you think of creative ways to combat feeling like this. Keep an open mind, consider all your options and ask for help along the way if you need it. I hope some of these tips have helped you to think differently and will help you to stay on top of your professional game.