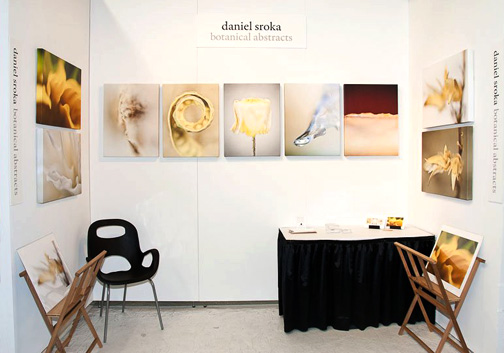 Photo by Daniel Sroka
Last weekend we had the opportunity to help my brother-in-law, Dan from Daniel Sroka Botanical Abstracts set up his art show at the International Art Expo NYC. It was a long day setting up but so worth it in the end as the booth looked amazing and really showcased Dan's fabulous work perfectly.
While setting up for the show it gave us a behind the scene look at how the artists set up their booths and displays. We even got to see a few of our favorite artists' work, Ed Heck and Nelson De La Nuez. When we went back on Sunday Ed Heck was there and we got to say hello to him which was an added bonus. There were several mixed media artist who had some great and inspiring work. A funny and surprising highlight of the show was the food as the ArtExpo was catered by Butterfield Market. For the 2 days we were at the show we sampled a few of their sandwiches, salads and desserts and I tell you I'm in LOVE! Their logo and branding were very inspiring as well – additional blog post to come regarding that.
In the end we had a great time and are so proud of Dan and his successes from the show. He was even chosen as a Top Ten SOLO Artist from the show. Way to go and can't wait for the next show!
Daniel Sroka is a fine art photographer who celebrates the physical and spiritual grace of the simplest elements of nature. Check out his website at danielsroka.com to view his work or to make a purchase.