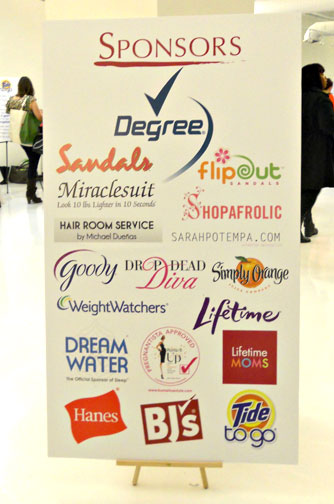 Last weekend I attended the Getting Gorgeous event in NYC, where social media savvy women came together to "get gorgeous". There were many giveaways, prizes (I won a gift card from BJs – woo hoo), yummy cupcakes from Georgetown Cupcakes, mini makeovers and many hair stylists on hand to spruce up everyone's hair. It's always good day when you get to see fellow blogger friends, meet people from great companies and celebrate being gorgeous both inside and out. And free swag doesn't hurt either!
DegreeWomen was this year's sponsor and the participating vendors/sponsors were: Sarah Potempa (such a sweet lady), Dream Water (works pretty well), Goody Hair, Shopafrolic, BJs Wholesale, Tide to Go, Simply Orange Juice, Flip Out Sandals, Lifetime Moms, Weight Watchers, Hair Room Service, Georgetown Cupcakes (YUM!), Sandals Resorts, Belli, Hanes, Bump It Up and Miraclebody.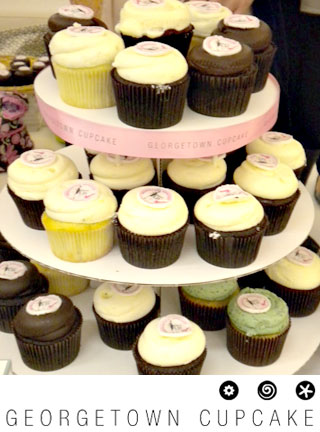 Just a side note about the cupcakes from Georgetown Cupcakes – SO GOOD! The one I had was Mint Chocolate chip which is my ultimate favorite and I seriously could have ate like 3 of them! Also the food from Moe's Southwest Grill that BJ's is now selling was a great treat too – that guacamole hummus was awesome!!
I plan on trying out a few of the freebies I received and report back to you with reviews and information, so stay tuned.But the best part I wanted to share with you is that some of the brands are offering discounts to TSD readers to help you look even more gorgeous for your scrapbook photos . Enjoy!
Miraclebody: 20% off any purchase made at Miraclebody.com when you use code GGNYC20 at checkout. Offer ends 4/18/2011 – I  just order a pair of the Miraclebody jeans today which promise to make you look 10 pounds lighter in 10 seconds, so I can't wait to get those!
Celebrity hairstylist Sarah Potempa created a line of hairstyling tools to help women achieve a red carpet look – enter promo code GG2011 to get $50 off the purchase of a titanium or ceramic flatiron
Sue Devitt Beauty: 15% off your next purchase when you use code GGEVENT11 at checkout. Offer ends 4/17/2011
Belli Pregnancy Safe Skincare: 20% off when you use code BLOG4401
Studio Jewel, Lisa J Lehman Designs: 20% off your next order. Use code: ggNYC11
Pishposh Mommy Stuff: 20% off any purchase. Use code BUMP20.
I was not paid for this post but all Getting Gorgeous attendees received a gift bag with complimentary products for review. No other compensation was provided, and all opinions expressed herein are my own. Special thanks to Audrey McClelland and Vera Sweeney for putting together such a wonderful event!