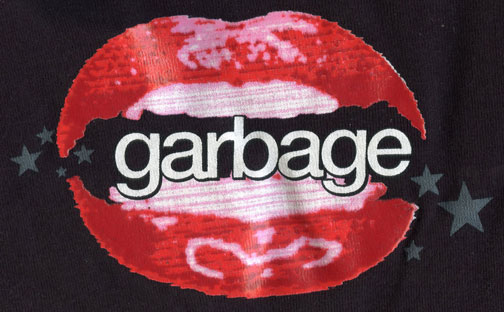 The past few weeks I've been doing a lot of spring cleaning and trying to declutter. In doing so I've come across so many great shirts (dress and regular tshirts) that I either don't wear or don't fit but want to keep them somehow. I have a sentimental connection to some of my old shirts whether they be from a concert, college or just from a specific moment in time I recall fondly. And since I don't have room for shirts to keep I came up with some great ideas to help you preserve them for memory keeping and/or fun ways to recycle them.
Scan the front and backs of the shirts (like I did above from a Garage concert) and use them in scrapbook layouts. If the shirt pertains to a certain concert or period in time make sure to include a small image of the shirt on that scrapbook layout.
Frame design like many people do with album covers. This can make great wall art especially when you use very graphic tshirts. It's also a cool idea so you can display your memories in a fresh way.
Make a quilt, blanket, pillow, curtains or a scarf from the patterns/designs on your shirts. I don't sew but I love these idea for re-purposing your old shirts. They even make a DIY Memory Quilt Kit to help you get started which is a good way to practice before using your tshirts.
There are so many other ways to reuse your old shirts and other clothes but you just have to use some imagination and get creative. I hope this post at least gives you some simple ideas to go and repurpose your clothes in a fun way.